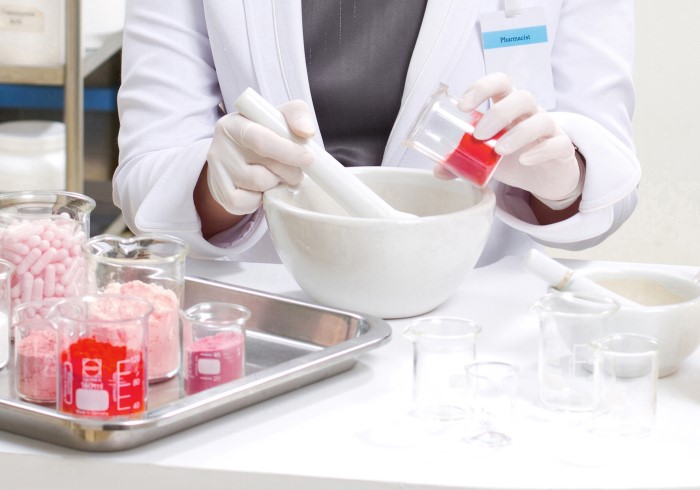 1st Choice Pharmacy compounding services specializes in utilizing technical advances to create pharmaceutical products that enhance patient outcomes. Compounded medications contain pharmaceuticals dosage forms and combinations not available through traditional commercial drugs. Patients with special needs often require medications to be compounded due to a limitation in administration, such as transdermal preparation (topical use) or suspensions (for oral use) for a small child that is not available commercially in the dosage recommended. At 1st Choice Pharmacy we compound the pharmaceutical to meet these needs and others. Often, convenience is a large proponent of compounded medications.
Several medicines can be combined into one injection, suspension, or capsule to reduce the number of single dose medicines in a patients prescription requirements. This one factor can have a tremendous impact on patient compliance and health. Even pharmaceutical companies recognize this and have begun to combine two or more medications in a single dose to increase patient response and compliance. Let's not forget that patients with certain drug and food allergies can have their medications compounded without ingredients that cause an allergic response. In the past, some patients have been required to take medicines regardless of certain allergies and forced to endure and treat the side effect.
There are many other benefits associated with compounded medicines. Just think of the many ways a compounded injection of vitamins and amino acids can enhance the outcome of a patient struggling with energy and weight loss. Many physicians specializing in the weight loss field have sought to obtain such a product to offer as a helping tool to make a difference in a patients life-style change.
In essence, a Pharmacy compounding is the art and science of preparing personalized medications for patients. Compounded medications are made based on a practitioners prescription in which individual ingredients are mixed together in the exact strength and dosage form required by the patient. This method allows the compounding pharmacist to work with the patient and the prescriber to customize a medication to meet the patient's specific needs.
A Brief History of Compounding

A t one time, nearly all prescriptions were compounded. With the advent of mass drug manufacturing in the 1950s and '60s, compounding rapidly declined. The pharmacist's role as a preparer of medications quickly changed to that of a dispenser of manufactured dosage forms, and most pharmacists no longer were trained to compound medications. However, the "one-size-fits-all" nature of many mass-produced medications meant that some patients' needs were not being met.
Have you or a loved one ever had difficulty taking medication?
You're not alone. Many people experience issues such as these:
Stomach upset when taking oral medication
Reluctance to take the medication due to its taste
Difficulty swallowing pills
Requiring a different dose of medication than that which is available from a manufacturer
Patients who don't want to take medication at all, especially children